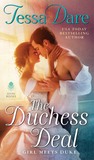 The Duchess Deal by Tessa Dare
My rating: 5 of 5 stars
Tessa Dare is a new author to me, but a lot of people I respect recommeded her on Twitter, so I thought I'd try one of hers. I loved it.
Ash is scarred and makes wise cracks to hide his pain. He needs a wife to make sure he has an heir, but he's not expecting any woman to fall for him because he thinks he's too scarred. His staff are fiercely loyal to him and are doing their best to get their master to fall in love. I kept thinking of Beauty and the Beast – the Disney version.
Emma is proud but pragmatic. She knows that a seamstress and disgraced daughter of a parson isn't likely to get an offer to marry a Duke, so she takes the opportunity when she's offered it. She and Ash fall for each other, but take ages to admit it to each other.
I love the sense of humour and the interaction between the two. There were a couple of scenes (especially the one with the cat!) which made me laugh out loud.
I don't read many historicals, so I have no idea about historical accuracy, but as a rom com, it's brilliant.