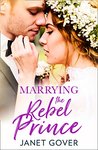 Marrying the Rebel Prince: Your invitation to the most uplifting romantic royal wedding of 2018! by Janet Gover
My rating: 4 of 5 stars
I like Janet Gover's books and I'm quite excited about the upcoming royal wedding, so I read Marrying the Rebel Prince as soon as it hit my Kindle.
Lauren is an outspoken artist who has been commissioned to paint HRH Prince Nicholas's portrait.
Prince Nicholas is the 'spare heir' and has some issues of his own. They don't exactly hit it off when they first meet.
Lauren likes to get to know her sitters before she can paint them, so that she can capture their personalities in the portrait, but with Nick, she just can't work him out. Obviously, she does work him out eventually.
This is a fun royal romance. It's got princes, castles, media intrusion and the loveliest sub plot about the tug of war between love and duty.
The usual disclaimer – I know the author as we're both members of the romantic novelists association and used to write for the same publisher. I buy her books because I like reading them.
Buy Link: UK Marrying the Rebel Prince

Buy link US: Marrying the Rebel Prince
And if you're looking for more royal wedding romances, may I suggest A Royal Wedding (out 10th of May)…