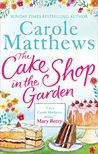 The Cake Shop In The Garden by Carole Matthews
My rating: 4 of 5 stars
This is a charming book. All the descriptions of cake made me hungry, so I ate three cupcakes and half a packet of biscuits in the time it took me to read it. So, it's also a fattening book.
Fay is lovely, but suffering from self esteem issues. Dan is sweet (and hot obviously), but there isn't that much to him, really. Anthony starts off being the 2D 'wrong man', but ends up being much more solid and believable. Fay's mother and sister are really quite horrid. My favourite of the bunch is Lija, who gets all the good lines! Stan is a bit of dude too.
This is the first Carole Matthews book I've read. I enjoyed it. It's very relaxing to read, perfect for reading on a summery weekend. But, be warned. You will crave cake.